About NRSP APC
NRSP Agriculture Processing Company Ltd. (NRSP APC) has been established as a "for profit" company. It came into existence on the basis of NRSP's work in "Back to Back" value chain model wherein the small and landless farmers are provided inputs including Farm Credit, Seed, Fertilizer and Advisory Services. This allows the farmer to increase yields but instead of exposing them to market forces at the time of harvest, they are linked to NRSP APC's dedicated processing units for a fair market price thus eliminating the middle man. New jobs for participating farmers or their siblings are offered at plant site while they are also eligible for a share in NRSP APC profits. Since the APC controls the quality of paddy through seed, the product has a strong capacity for export at competitive rates. NRSP APC has set up one paddy processing unit at Hafizabad and plans to set up four additional units by offering equity stakes in the company.
NRSP APC Ltd. Introduces a wide palette of Basmati Rice with choicest selection of aroma, length and fragrance to suit different taste buds.
Our motto is "from farm to the fork". NRSP APC Ltd. is like a super market for the small and poor farmers. It provides credit and advice to enable them to buy seed, fertilizer and inputs of their choice thus enabling them to grow best quality Paddy. It then buys back the Paddy from them at the best rates and makes real time cash payment. With no middle man, the NRSP APC Ltd. thus has the best quality paddy which is then processed at its state of the art plant to produce top grade export quality raw, steamed and parboiled rice of different varieties.
NRSP APC Ltd. has one of the most modern rice milling, processing and packing units in Pakistan. Its plants are located in Karachi in Sindh Province and Muridke & Hafizabad in Punjab Province.
Each location is equipped with the state of the art machines. The connection with the farmers ensures consistent quality enabling NRSP APC Ltd. to produce highest quality of raw, steamed and parboiled rice. Paddy procured from farmers passes through a series of drying units to control moisture; followed by pre-cleaners; de-stoners and set of milling machines to have the best quality raw rice.
Our mills store dried Paddy in state of the art silos. The finished product is stored in most modern warehouses which are temperature and moisture controlled. It also has custom-built fumigation chambers to ensure proper fumigation of rice both at raw and finished stages.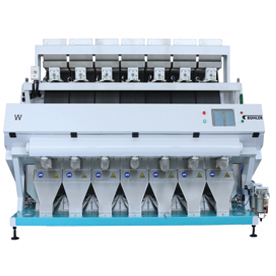 The Mills are also equipped with complete processing line comprising of three stage graders, sifters, reels for rejections of shriveled grains, pneumatic and silky polish machines, length/width graders for providing homogeneous length of rice and modern color sorters for sorting damaged grains. The end product is ready for the connoisseur who is quality conscious and also wants to help the small grower.
Each batch of paddy and rice passes through various stages of quality control. The quality control labs have state of the art equipment that ensures consistency of the end product be it Paddy; Raw or finished Rice.
Our multiple locations offers strategic advantage to respond to ever growing needs of global buyers who are looking for quality Pakistani rice at competitive prices.
NRSP APC Ltd. can provide products from its own portfolio, or will be happy to pack high quality rice as per the desired specifications in the client's branded bags.